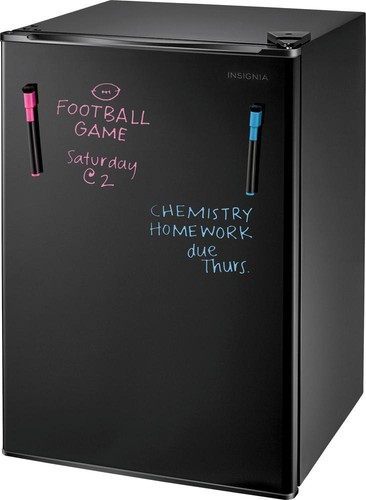 OR
Bestbuy.com
A fridge that is ok to draw on!
Only at Best Buy Mechanical controls; chiller zone; can rack; bottle door storage; glass shelf; reversible door; freestanding design; 215kWh energy consumption per year; 90W max power consumption
Only at Best Buy Leave notes and messages on this Insignia compact refrigerator. Its front door is a dry-erase board complete with markers in two colors, and it holds 2.6 cu. ft. of groceries on two shelves. This Insignia compact refrigerator includes an ice cube tray and has separate storage in the door for canned beverages.
2.6 cu. ft. storage capacity
Provides optimal space to store your items.

Mechanical controls
Quickly and easily set your cooling options.

Chiller zone
Keeps your items at the ideal temperature.

2 shelves
Glass shelves will ensure you have enough storage space.

Can rack
Store your cans there to keep shelf space free.

Dry-erase front panel
Flexible design that meets various needs.

Freestanding design
Allows flexible placement.

Adjustable feet
For easy installation.