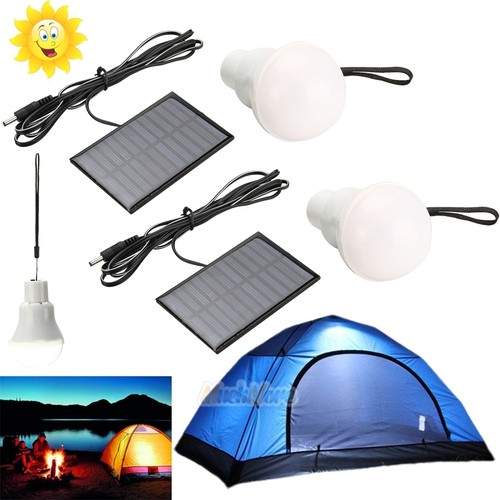 These currently only $13.99 for a 2 pack and have great reviews too.
Shipping is free and fairly fast. Ships from the US.
With many still out of power in Puerto Rico these would be great to send as shipping is free.
Product description copied from eBay listing:
2 x Portable Solar Power LED Bulb Lamp Outdoor Lighting Camp Tent Fishing Light
100% Brand New & Excellent quality
Fast shipping from NJ, US
* Easy to carry
* Power shortage, can use power charger
* The solar light relies on solar energy, which is clean, endless and environment-friendly.
* The solar panel is fixed to the roof or sunny place, the line into the house, and put the plug in the socket interface for charging (also can charge the battery by 5-8V charger)
* Lamp using high-performance lithium battery, the service life is 6-8 times of lead-acid battery
The system is mainly composed of solar panel, light source and battery.
* Ideal home lighting, office, camping, outdoor activities, mainly in lighting and mobile phone and other digital products charge
* Voltage: within 5V
*

Bulb Power: 3W
*

Type of Light: LED
*

Full Charged Time: 6-8 hours under direct sunlight
*

Use Time when full charged: 4-5 hours
*

Bulb Size: 108*63mm
*

Solar Pannel Size: 90*60mm
1, Maximum brightness of bulb: 130LM
2, Capacity of lithium battery: 850ma/3.7V; continuously effective lighting of fully charged bulb: 5h
3, Battery can be fully charged by the photovoltaic panel under a sufficiently
sunlight condition.
2 x Solar Lamp
2 x Solar Pannel (with charging cable, approx. 145cm length)