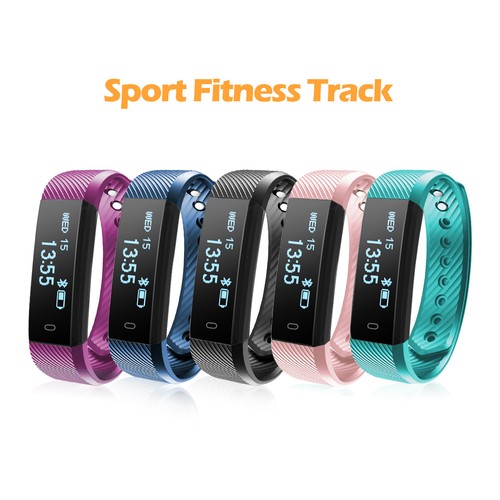 Main Features:
1.Display Health Parameters
This smart wristband can display the time, date, steps, distance ,calories and heart rate clearly.
While paired with APP, the bracelet can also display find phone icon and .........All these let you
know your sports data immediately!
2.Sync Sports Data
When it paired your smart phone via bluetooth, it will sync your data to Android phone and IOS phone.
It gives you a real-time assessment of your exercise throughout the day.(APP: VeryFit for heart rate)
3.Heart Rate Monitor
It can monitor your heart rate to help you do exercise and adjust your training plan scientifically.
4.Calls Reminder
When you have calls, the smart bracelet will vibrate to remind you and display the call name or
5.SMS and Social Notice Reminder
When you have SMS or social notice such as Facebook and Twitter, the smart bracelet will vibrate
6.Sleep Monitor
It will automatically recognize your state and monitor your whole sleep process with analyzing your
deep sleep time and light sleep hours.
7.Remote Camera
You can take photos through the bracelet via remotely control of your smart phone.
8.Alarm Clock
Don't be afraid that your alarm would wake up others because this silent vibration function just wake
you up! (Alarm icon will be displayed on the bracelet after switch it ON in the APP.)
9.Sedentary Reminder
Bluetooth heart rate wristband will remind users to take timely rest to avoid fatigue .
10.Stop Watch
The function that you can use to test your speed and record you sports time.
11.Find Phone and Anti-lost
The Phone will vibrate to remind you after starting the find phone function on the bracelet. While the
bracelet be far away from the phone, the bracelet will vibrate.(Find phone icon will be displayed on
the bracelet after switch it ON in the APP)
12.IP67Waterproof
Sweat proof, rain proof, water drop proof; do not suggest wear it while diving.
13.Standard Time and Military Time, Metric Unit and Imperial Unit
You can choose the time format and unit as you like.
14.Wake-up gesture
The screen will light when you turn over your wrist.
15.Multi-language
APP language: Chinese(Simplified and Traditional),English,Russian,Italian,German,Spanish,
Portuguese,Hungarian,French,Polish,Japanese,Korea,Dutch.