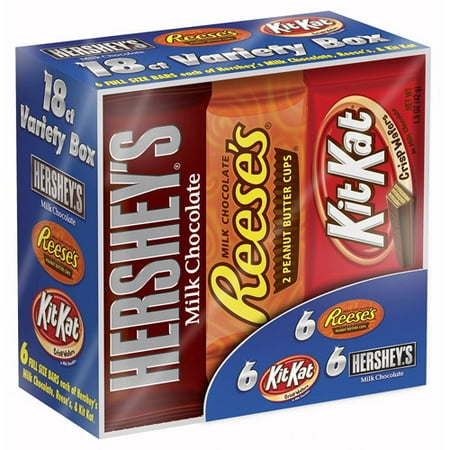 Love chocolate? Check out these candy bar deals!
These are great to add to lunch boxes instead of wasting money at the vending machines or even use as stocking stuffers or in gift baskets!
The Hershey's Full-Size Chocolate Variety Pack features an assortment of your favorite Hershey's candy. This 18-count Hershey Candy Bar pack contains full-size HERSHEY'S Milk Chocolate Bars, REESE'S Peanut Butter Cups and KIT KAT Wafers. You'll get the creamy taste of Hershey's Milk Chocolate Bars, the delicious combination of peanut butter and milk chocolate with REESE'S Peanut Butter Cups and the flavor of milk chocolate combined with light, crispy wafers with the KIT KAT Wafers. Get this Hershey Variety Pack to stock up on your favorite candies for your home, office or for a party.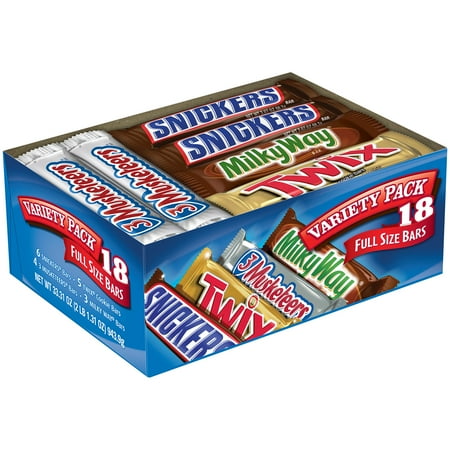 Satisfy your sweet tooth with this 18-count Mars Full-Size Candy Bars Variety Pack. It includes six Snickers, five Twix, four 3 Musketeers and three Milky Way. The Mars candy bar variety pack is ideal to share as a delicious treat with friends, family or party guests. It offers a variety of different flavors. Mars chocolate can also be used for gift baskets and stocking stuffers.

Mars Full-Size Candy Bars Variety Pack:
6 Snickers candy bars, 5 Twix, four 3 Musketeers, 3 Milky Way

Ideal for Halloween or any other time of the year

18-count candy variety pack provides a mix of flavors and textures

Full-size bars are ideal to share as an afternoon snack or chocolate treat with friends, family and party guests

Mars chocolate candy bars can also be used for movie theaters, gift baskets and stocking stuffers