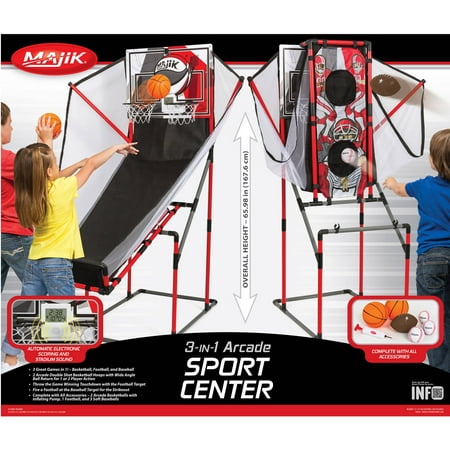 Switch between games easily with a Majik 3-in-1 Arcade Sport Center Game System. It features basketball, football and baseball as the pastimes you can choose from. The 3-in-1 game table has two double shot hoops that have a wide angle ball return for one or two players. It can be used by people of different ages and skill sets or levels. The Majik 3-in-1 Arcade Sport Center Game System comes with all the accessories needed to begin playing. It is meant for children over the age of 6 and should be kept away from those under that age because of small parts. The Majik 3-in-1 Arcade Sport Center Game System includes electronic scoring and sounds as if you were really in a stadium.
3 great games in 1: Basketball, Football, and Baseball

2 arcade double-shot basketball hoops with wide angle ball return for 1- or 2-player action

Throw the game winning touchdown with the football target

Fire a fastball at the baseball target for the strikeout

Automatic electronic scoring and stadium sound

Easy to assemble and switch between game modes

Complete with all accessories: 2 arcade basketballs with inflating pump, 1 football and 3 soft baseballs
also check out these:
These over the door games are easy to set up and great space saver with easy storage. Just leave them hanging!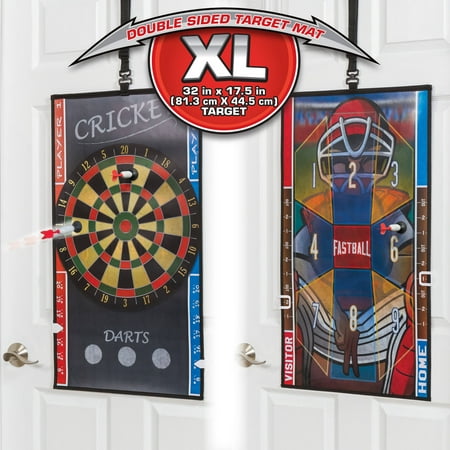 Bring your favorite sports indoors with the Majik Over the Door 2-in-1 Dartboard and Baseball Darts. This setup makes an exciting addition to your rec room and will keep the family entertained for hours. The multi game table is easy to hang on any door without the need to drill into walls or install extra hardware. Its height is also adjustable to accommodate different types of players. With the Majik game table, you can go for the bulls-eye or try to strike out on the other side. Spin the spinner to determine which area of the strike zone to aim for, then fire in your fast pitch to practice your baseball skills. Flip the board over and you get a traditional dart board. This package comes with three safety stick darts and one spinner.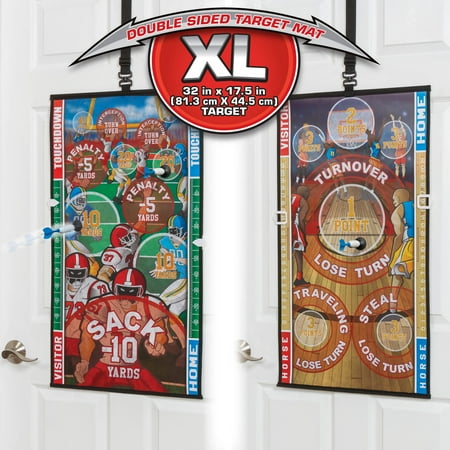 This oversized double-sided Majik Over the Door 2-in-1 Football and Basketball Dartboard provides endless hours of fun in the comfort of your bedroom. In football, spin the spinner to determine how far you stand away from the target and then throw for the touchdown. If you prefer to play some hoops instead, flip the target over and take your best shot. Play straight to 21 or a classic game of H-O-R-S-E. Try to lead your team to victory with this Majik 2-in-1 Football and Basketball mat. It hangs easily on any door without any screws or hardware, and its height can be easily adjusted. You can conveniently keep track of the score on its slide with dual sliders. It comes with three safety stick darts and a spinner.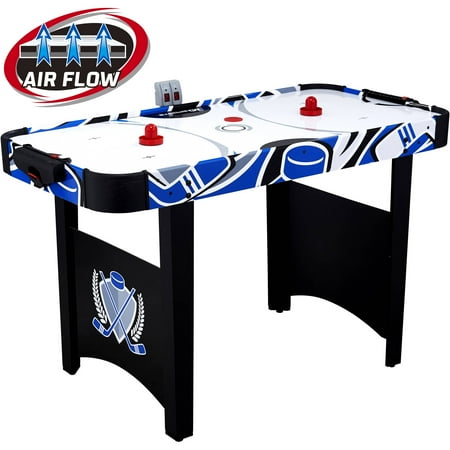 The MD Sports 48 Inch Air Powered Hockey Table is the perfect size game for your home. It's great for events, gatherings and office recreation rooms. Mind-blowing fun and easy to play for kids and adults. The table features a UL certified 110V motor and a special surface coating that helps the puck to flow quickly and easily over the table's surface. You can choose between the LED scorer or the manual slide scorer to keep track of the action. Let the friendly competition between friends and family begin.