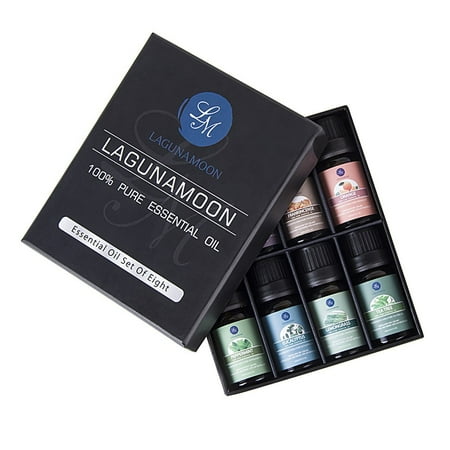 Grab this 8 pack set of essential oils for ONLY $11.99 FREE SHIPPING at Walmart!
Lagunamoon Essential Oils Set Top 8 - Lavender, Tea Tree, Eucalyptus, Lemongrass, Frankincense, Orange, Rosemary, Peppermint Essential Oil for Aromatherapy
Lagunamoon Top 8 Aromatherapy Essential Oils Gift Set,ideal for medical,health and beauty,spa,massage,home cleaning purpose.All of our essential oils are natural and 100 pure,wildly use for diffuser essential oil,humidifier oils,aroma therapy oils etc.
Orange Essential Oil: Emotional balance, overall health, cleansing/purifying, antioxidants, etc
Lavender Essential Oil: Universal oil. Calming, skin health and recovery, flavoring, etc
Tea Tree Essential Oil: Cleansing, healthy immune function, skin complexion, etc
Peppermint Essential Oil: Wonderful for digestive/respiratory function, energy, cooling, etc
Eucalyptus Essential Oil: Supports healthy respiration, skin, cleansing, etc
Lemongrass Essential Oil: Healthy digestion, supports muscles and joints, complexion, insects, etc
Rosemary Essential Oil: Promotes healthy digestion, respiratory function, healthy hair/scalp, etc
Frankincense Essential Oil: Supports healthy cellular health, skin, emotions, etc
Usage:
Ayurveda, Aromatherapy, Chakras, Steam inhalations, Skin care, Massage, Natural Perfumery, Soothing bath, Sitz bath, Hair care & adding to shampoo, lotions or creams, making soaps, bath bombs and other cosmetic products, Saunas, Foot and hand baths, Air freshening, Compresses, Vaporization/Burner
GENERAL safety information:
As with all essential oils, dilute prior to use.
Do not take any essential oils internally without consulting a qualified professional. Always consult with a health care professional before using any herbal remedy especially if pregnant, nursing, or taking other medicines.
Avoid contact with eyes. Keep out of reach of children.
Package Includes:
8 Bottles(10ML each) Aromatherapy Essential Oils
100% pure therapeutic essential oils
Set of eight 10ml, nice gift box
Oils Set contains Peppermint oil, Lemongrass oil,Rosemary oil,Orange oil,Eucalyptus oil,Tea Tree oil,Frankincense oil,Lavender oil;All oils are steam distilled at low temperature and low pressure with appropriate care, pure & free from additives