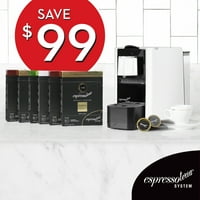 WOW! Get a FREE Espressotoria Machine ($99 value) when you buy Buy 6 coffee pod packs at Walmart! ONLY $53.34 FREE SHIPPING!
*NOTE Price can change at anytime.
Would make a great gift!
The Espressotoria Caprista is a premium espresso coffee pod machine that delivers cafe quality espresso at the touch of a button. The Caprista is perfectly paired with the Espressotoria Milk Frother (sold separately) via an integrated power dock which allows you to create Italian style coffees such as cappuccinos, flat whites, Americanos, lattes, cortados, iced coffees and more. The Caprista is a compact and affordable coffee machine with a bold black finish suitable for almost all environments. Featuring a 19 bar pump pressure, the Caprista utilizes a programmable pour function, features an energy saver mode and comes with a 1-year warranty. The Caprista also has a waste capsule and water level indicator. To use the Caprista simply insert an Espressotoria System compatible pod into the machine and press the short button to deliver 1fl.oz (30 mL) of espresso. If you wish to make a milk based coffee, then us the Espressotoria Milk Frother (sold separately) to froth the milk and pour into the espresso. The Espressotoria System features a range of compatible 100% Arabica coffee blends, designed to provide you with an easy and convenient way to enjoy specialty espresso coffee. Espressotoria, cafe quality coffee made easy.
Stylishly designed machine, with a bold black finish

Make caf quality espresso right in your home

Compact and delivers 1 fluid ounce (30mL) of espresso

Utilizes a 19 bar pump pressure and a variety of programmable pour functions

Equipped with an automatic switch-off

Features an energy-saving mode, indicators for water level and waste capsules

Comes with a one-year Espressotoria product warranty