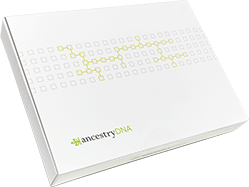 Been looking for a great deal on AncestryDNA kits? Now until 12/24 you can grab a kit for ONLY $59 or buy 3 get 1 FREE($177 or ONLY $44.25 each!) *MUST add 4 to cart to get the deal.
AncestryDNA Traits is ONLY $10 and also 3 get 1 FREE! Great time to grab a kit for the whole family.
AncestryDNA kits include:
Origins and Ethnicity
Get our next-generation ethnicity estimate and find out where you're from in over 350 regions.
DNA Matches
See a list of people who share parts of your DNA—and learn their connection to you.
AncestryDNA Traits includes:
18 Personal Traits
Go deeper into your DNA to learn about your personal traits, compare with others, and discover if your traits are shared with people in regions around the world.