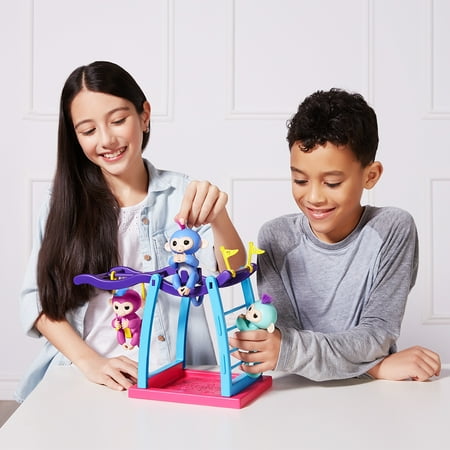 Check out this great deal on Fingerlings 2 Monkey Play Set PLUS 2 Monkeys for ONLY $9.97 REG $34.99 at Walmart.com Free shipping on $35+ Orders or select store pickup if available. This would make a great kid Christmas gift! Great donation item too.
ALSO some Fingerlings are on clearance for ONLY $5.97!
Right side up or upside down, this monkey bar and swing play set is the perfect place for your WowWee Fingerlings pets to monkey around! Like all Fingerlings Baby Monkeys, Liv and Simona love to interact with you - responding to touch, sounds, and movement with cute monkey babble, blinking eyes, and head turns. And when your little pets are not holding onto your finger, they will love playing in her play set. You can hang them by their tails on the monkey bars, or push one back and forth in the swing, while the other plays "king-of-the-castle" from the seat at the top of the structure.
Fun playground features 2 monkeys, monkey bars and a detachable swing
Liv is an adorable periwinkle blue monkey with pink hair who lives to play
Simona is a cute bubblegum pink monkey with blue hair who lives to play
Playground provides plenty of room for Liv and Simona to play with other friends
Have your Fingerlings take turns rocking back and forth in the swing or hang them from their tails
The seat on top of the monkey bars gives your little pet a view from the top of the play set
Your WowWee Fingerlings can grip onto the side of the ladder