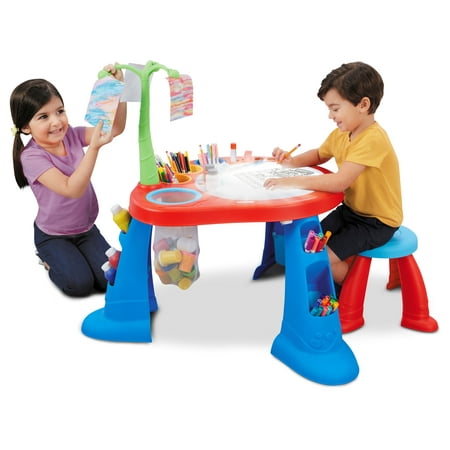 FREE SHIPPING ON $35+ ORDERS or do free store pickup
Light up, trace, draw and create with Little Tikes Tracing Art Desk. This art desk features a removable tracing board for stationary and on-the-go arts and crafts fun! Help inspire art projects, crafts, drawing and a love of art with these kids art products. Our table has features you'll love like folding designs, easy-to-clean surfaces and more!
Use the light up board to trace and learn to draw!

Remove top surface for on-the-go activities

Use compartments and storage space in legs for art supplies

Display your greatest creations using the hanging tree for drawings & paintings

Includes kids size art stool
Crayola Inspiration Art Case - All That Glitters
The Crayola All That Glitters set contains everything your little one will need to make sparkling art projects. The handy carrying case comes with 50 pieces inside, including markers, stickers, glue, chalk and construction paper. Let her imagination run free as she creates art with all the colors of the Crayola crayons glitter. She can color her own stickers, create sidewalk art or draw her own images. With this sparkling assortment of glitter-infused products, the possibilities for creation are nearly endless. The convenient case means she can take it with her wherever she goes, from summer camp to grandma's house.